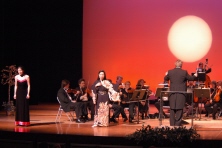 State Repertory Opera's primary purpose and mission remain today what they were in 1975 when it was founded-- to help diverse New Jersey audiences experience excellent opera performances on this side of the Hudson, sung by young New Jersey residents who will be tomorrow's luminaries in the opera world.
SRO has distinguished itself through the presentation of operas rarely seen in the metropolitan area and its refreshing interpretations of established classics. Its recent productions of Goyescas, The Bartered Bride and Thais were the first in the New York area in decades. Its production of Susannah was named the "Best Staged Opera" in New Jersey that year by the Newark Star-Ledger, which also raved over SRO's Goyescas, declaring it the "Most Innovative Opera Staging" that year. In 2001, State Repertory Opera succesfully produced The Ballad of Baby Doe, carving a niche for itself as the most adventurous of New Jersey's opera companies. In 2002, SRO's staging of a contemporary Marriage of Figaro received critical acclaim for the singing and updated concept. The 2003 concert performance of Madama Butterfly also received accolades for the high quality of the singing.
SRO is a non-profit organization under Section 501(c)(3) of the Internal Revenue Code.
For additional information, call 973-763-7969, or send email to , or use our Feedback/Mailing-List form.